History of STP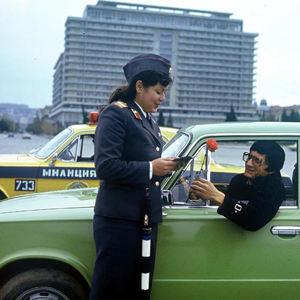 State automobile inspectorate was established in 1936 on decision of Council of People's Commissars of former USSR and was subordinated to People's Commissariat of Internal Affairs. The activity of the inspectorate used to be conducted by the officers of department of motor transport and highways in civilian clothing.
Main duty of state automobile inspectorate was first of all, to create discipline in traffic, to prevent traffic accidents, to register vehicles. The cover of interregional roads and the roads connecting villages and settlements of the republic had not been fixed.
Cover of streets and roads of Baku city consisted of cobblestone, and the pavements had been laid with asphalt containing a lot of cockle-shells and quickly melting in hot weather.
Moving speed of motorcycles, QAZ-AA, M-1, RIS and other brand automobiles equipped with mechanical brake system was not more than 40-50 km per hour.
According to traffic rules, in order to ensure the traffic security, drivers had to use sound signal or give signs with gestures while turning to left by vehicles, crossing crossroads, entering and leaving the yards, outdriving, in foggy weather, when the roads are iced up. Administrative measures used to be taken about the drivers not following such rules.
The traffic in narrow streets and roads of Baku was two-way. As time passed, according to requirements of time, additions and changes used to often be made in traffic rules.
Beginning from 1936, "Traffic rules" were made by the decisions of City or Regional Soviet of Working People's Deputies. And for this reason local rules were different from one another.
Some difficulties appeared in the activity of State Automobile Inspectorate during the Second World War. There was not any technical means and even an automobile for official use at the disposal of the Inspectorate. Knowledge of those who wanted to get driving license used to be assessed through question-answer.
There was proper need for regulating traffic in Baku, also in other cities and regions of the Republic. At that time Ahliman Huseynov was the leader Baku city State Automobile Inspectorate, in 1941-1942 he led the Republic State Automobile Inspectorate and in 1942-47 was military commandant of Baku city.
"Road traffic rules" was confirmed in new formulation in 1957.
In 1960 "Traffic rules" was once again changed and "Traffic rules in streets and roads of USSR" was approved. These rules, differing from the previous ones, became a single standard document for USSR territory. Building of Republic State Automobile Inspectorate, also building of its local city and region units were old and useless.
Republic State Automobile Inspectorate was situated on the first floor of two-storied structure around the residential buildings, various commercial objects, near the present Fountains Square and the number of rooms was not more than 10.
In such a condition young personnel of Republic State Automobile Inspectorate could ably cope with their duties.
It should be noted that once D.Kondakov, Nusrat Bagirov, Khayyam Mahmudov, Fatulla Huseynov, Rizvan Najafov has led Republic State Automobile Inspectorate and Maxim Lyashenko, Jafar Bagirbayov, Ismayıl Jabbarov, Arif Seyidbayov, Mirrasul Rasulov, Ramiz Abbasov has guided Baku city State Automobile Inspectorate.
Beginning from 1970, mass release of "Jiquli", "QAZ-24" and other new brand automobiles caused the improvement of traffic organization. In order to ensure security on roads, there appeared the necessity of implementation of further actions. State Automobile Inspectorate's helicopter platoon was established, one-way movement of vehicles was arranged in Khagani, Nizami, U.Hajibayov and tens of other streets and roads.
Many-lined, one-way traffic was defined in Kirov avenue and L.Shmidt street since April 25, 1970. Later on, such an action was conducted in Kommunist, G.Garayev, J.Jabbarli, 28 May streets and tens of other places.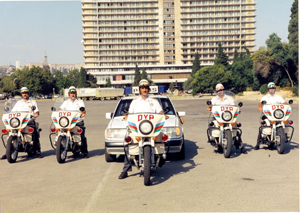 Indicating lines were drawn nearly on all primary roads and lighting traffic signs started to be set up.
The so-called "Magistral" automatic traffic lights installed according to the project of special design bureau of Omsk city, opened "Green wave" to vehicles in Kirov avenue of Baku city in 28April, Khagani, U.Hajibayov and L.Shmidt streets and prevented from unnecessary stops on crossroads. So, single directing automatic system of traffic was for the first time created on these roads.
In order to ensure pedestrians' fully safe movement underpasses and circular roads were made in Moskva (Moscow), Narimanov, Kirov, Inshaatchilar, Neftchilar and other streets and roads, also, underpasses were made in Y.Gagarin, Bakikhanov streets. Voluntary national squads were created in transport. Member of voluntary national squads were provided with special wear and badges, and their activity was gradually strengthened.
A division, directing the traffic, used to function in Baku city till 1970s. The division was situated in a single-storey useless building near the "Azerbaijani woman" statue. Collaborators of the divisions consisted of ordinary staff and they used to direct the traffic with black-white truncheon in the centre of crossroads where the movement was intensive.
The tireless directors among the collaborators distinguished for their quick actions, drew the attention of those who pass the way, and they admired their skill.
Mazanov, called "director of crossroad" has acted in films of "Mosfilm" film studio and the film studio named after J.Jabbarli. Materials about directing ability of an ordinary police officer with action quickness have been published in "Vechernaya Moskva" and Republican media.
On one of the summer days, 1975 near the building of MIA on crossroad where H.Hajiyev and Nizami streets cross, a concourse has been held under "excellent director" motto, the winners have been awarded according to order.
For directors' protection against sun, rain or snow, installation of umbrellas on the centre of some crossroads was applied for the first time in Baku. Later on, directing the traffic with truncheon by policemen began gradually to be substituted with 3-eyed traffic lights activated by hand.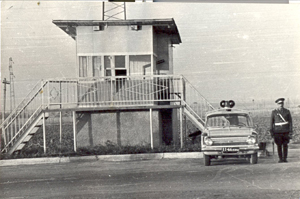 One more novelty was applied in Baku for the first time. Big high booths made of reinforced concrete were put instead of previous ones on crossroads of H.Hajiyev, S.Vurgun and other streets. Automatically controlled traffic lights began to be used.
Over the years, there was no need for directing the traffic manually and that is why, the mentioned division was abolished.
Particular traffic patrol division, later on Traffic Police Regiment and appropriate to such structural changes, a division subordinate to Republic State Automobile Inspectorate and finally, presently functioning Traffic Police Regiment was established in Baku in division base.
Baku city State Automobile Inspectorate was once functioning in one-storey structure near the building of Baku city MPD in 41 Gogol street.
Specialized single organization - "Siqnal" Production Project Department on making, installing, serving regulatory technical means was established in Baku in 1970.
Especially, beginning from 1970, attention to strengthening advocacy work among the people for ensuring the road traffic security was increased.
By joint consent of MIA and the Committee for Azerbaijan radio and television broadcasting, beginning from 1973 and as a rule, "State Automobile Inspectorate report" programme used to be hosted by the collaborators of State Automobile Inspectorate through television on Mondays of each week. For attracting attention of more audience to programmes, it used to be broadcasted at 21.50 before "Vremya" news programme of Moscow.
Traffic accidents occurred on roads of the republic during the week, precautions for preventing accidents, in short, advocacy work were being conducted for ensuring traffic security in reports of the Inspectorate. Various data concerning road traffic security, road signs, traffic lights, indicating lines, their meanings used to be explained to the audience, interesting quizzes used to be arranged in such programmes.
Later, data on such theme began to be published in "Baku" evening newspaper under the title "Driver, pedestrian, events" each week.
Articles under the title of "three magical lights" began to be published in "Azerbaycan pioneri" (Azerbaijan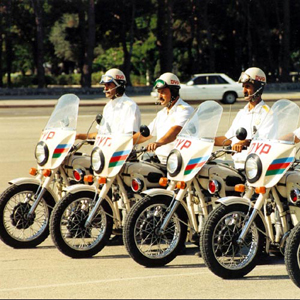 pioneer) newspaper in 1971.
After our republic achieved its independence, serious changes began to be made in State Automobile Inspectorate. First of all, working condition of the collaborators was improved. Normative documents of STPD were revised, instructions nearly on all service spheres were prepared according to modern requirements and confirmed on order of MIA.
A number of successes have been achieved since 1994 in difficult, hard, also honorable service sphere of personal staff under the leadership of present police major general R.M.Zeynalov appointed to the position of chief of Main State Traffic Police Department.
Protection of people's life and health in accordance with road traffic in our Republic is a state duty at present. Creation of legal normative base in the sphere of road traffic and matching it to international standards develops in a rising line. From this point of view, the Law "On road traffic" of Azerbaijan Republic is a very important document. Rights and duties of traffic participants, also, provisions meeting the demands of international legal standards in the sphere of ensuring road traffic security have widely been reflected in this document. As well as, the responsibility reflected in 13th and 14th chapters of Administrative Offences Code for the offence of appropriate requirements of law and traffic rules, provides legal base of taking prophylactic actions to ensure the traffic security in streets and roads.
An action is constantly conducted in improving legal norms in the sphere of road traffic in our country and international practice is closely studied in this field. Our Republic has joined Vienna Convention "On Road Traffic" in 1968, "Europe agreement concerning the international carriage of dangerous goods" in 2000, European convention "On mutual recognition of deprivation of the right to drive" in 1976.
Ensuring the road traffic security depends on many factors. Application of modern automated technical regulatory and control devices in organization of continuous and easy movement of vehicles and pedestrians in streets and roads is of very great importance. Nearly 1450000 thousand vehicles are in use in our republic at present. Year after year, by increase of vehicles, fundamental repair of roads, broadening, organization of road traffic and following the rules by traffic participants is an important factor of ensuring traffic security.